While we are all busy putting up Christmas trees, decorating our homes, watching Christmas movies, or looking forward to cosy Christmas nights with our families, we can all reflect on the tough years just gone by and reflect on some of the major challenges faced by our local retailers.
Our little village, together with the rest of the world, faced challenging times during the COVID-19 pandemic but we can take strength from the compassion, kindness, adaptability and the strong will to prevail that was evident during these challenging few years.
It is now essential that we keep our Christmas spirit alive and support our local small business community. What better way to bring smiles to the faces of our loved ones than a special Christmas gifts brought locally?
This month we had great pleasure in talking to local businesses in Castleconnell about their Christmas offerings and we can't wait for you to see what they have in store for you. Let's get your Christmas gifts sorted!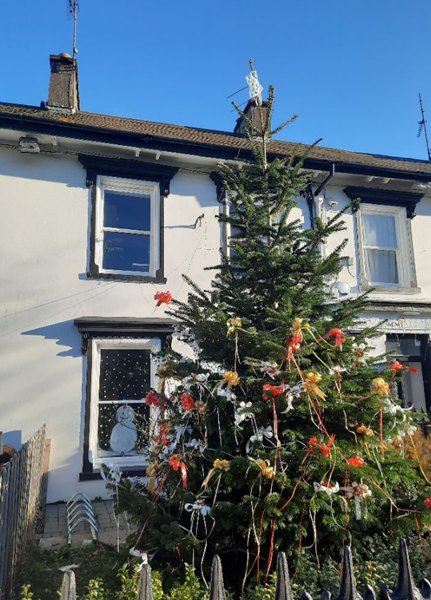 Daly's Cross Daybreak Service Station
Celebrating 65 years and three generations of Lees, Daly's cross service station is proud to offer great deals on fuel, food, fresh baked goods and tyre services. Call to the cross now and pick up Daly's Cross Fuel vouchers or One For All Vouchers as well as fresh home cooked meals, all available at Daly's cross service station.
Best Christmas Sellers
Francis Lee, the third generation of his family to run the business, told us that Fuel Vouchers are flying out the door this year, along with One for All Vouchers.
The festive range of baked goods in the bakery section are also going like hot cakes apparently 😊
The inhouse fresh range of baked goods is always very popular at this time of the year says Francis , we have a huge range of pastries, cakes, buns and the ever popular festive treats like mince pies and yule logs.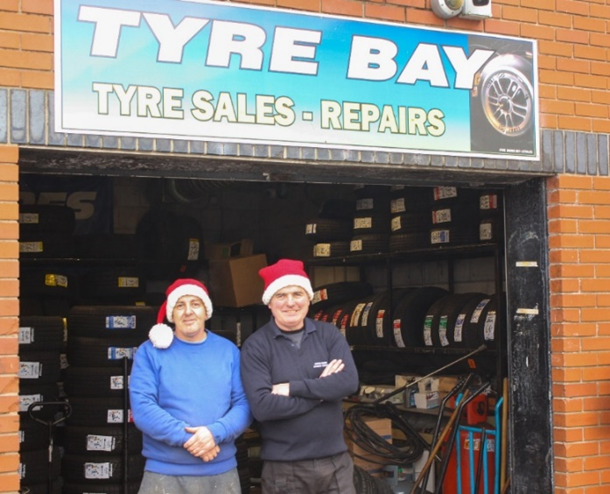 Call to Daly's Cross Tyre Bay for all your motoring needs, from new tyres to engine oil and anti-freeze , the lads will ensure that your motor is up to scratch and well equipped to deal with the toughest of winter conditions.
How to Find Daly's Cross Latest Offers
You can Check put Daly's Cross Facebook Page for all the festive available in Daly's Cross Service Station
Daly's Cross Service Station Facebook
Daly's Cross Christmas Opening Hours 2022
Christmas Eve, 8am to 7pm
Closed Christmas day,
St. Stephens Day 9am to 7pm
27th to 30th Dec. 8am to 9pm
New Years Eve 8am to 7pm
New Years Day 9am to 7pm
Green Cross Pharmacy, Castle Street
Green Cross Pharmacy is a family owned pharmacy group. They have two pharmacy stores, one located right here in Castleconnell, and the other in the riverside town of Killaloe, Co. Clare.
Green Cross pride themselves on providing an excellent service and giving you and your family the care you need. The excellent team of staff is trained and equipped to assist you in whatever health and beaty needs you may require.
At Green Cross Pharmacy, the expert team will provide a broad range of products and services including a prescription service, OTC medicines, vitamins and minerals, first aid supplies, mother and baby care, dental care, toiletries, photo printing services, hair care, specialised skincare, cosmetics, fragrances and giftware.
Best Christmas Sellers Alongside the ever popular fragrance gift sets for Him and Her, Green Cross Pharmacy has a huge range of Christmas Gifts available on their website where you will find ranges from a host of Irish and international brands.
How to Find Green Cross Pharmacy Latest Offers
You can find all of the wonderful range of Green Cross Christmas gifts by clicking Here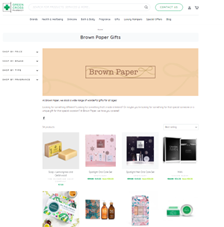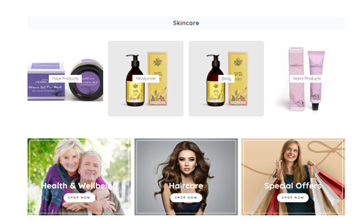 Shannon House Restaurant, Main Street
Shannon House Restaurant is a local family run restaurant managed by John O'Donnell and Sandy Clooney. Each drink and food item you order from us is guaranteed fresh and made to order using only the best of local ingredients.
Having recently celebrated 1 year of trading in Shannon House Restaurant , John and his team are looking forward to the festive season and welcoming old friends as well as all new patrons.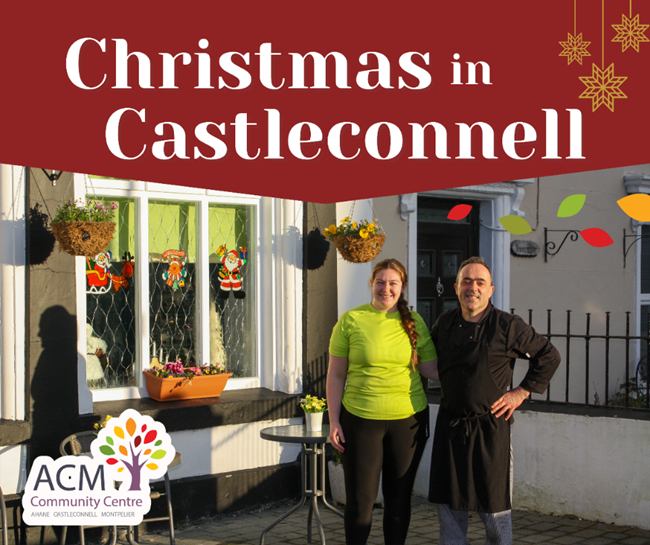 There is an extensive Christmas Lunch menu on offer at Shannon House and John tells us that demand this year is unbelievable.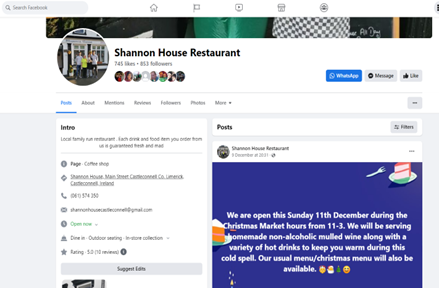 For Daily Menus and Festive Offers you can Check out the Shannon House Restaurant Facebook page located Shannon House Restaurant.
St Vincent De Paul Shop, Bruach Na Sionna
The Castleconnell St Vincent de Paul Shop has been operating in Castleconnell for over 40 years and seven years ago moved to their centrally located premises in the very heart of the village. There is a huge and eclectic range of items in store so people can find the perfect Christmas gift or homeware item that will bring that extra little bit of sparkle this holiday season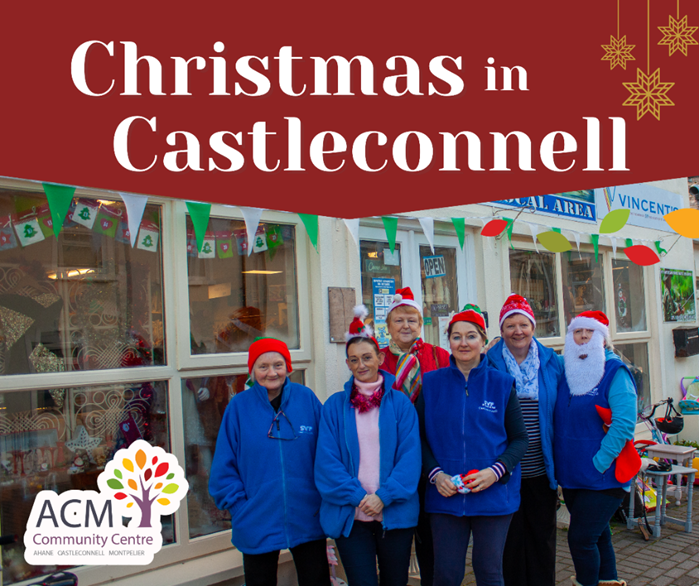 Best Christmas Sellers
Bridget Healy, Manager of St Vincent de Paul Castleconnell, tells us that Christmas Trees are always a great item to move along with party clothes and the ever popular Christmas Jumpers which are flying out the door.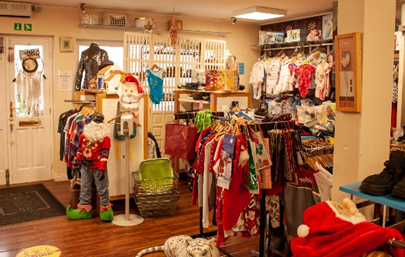 St Vincent de Paul Castleconnell has a wide selection of clothes, shoes, furniture, toys and bric-a-brac and a very impressive array of festive goods for the Christmas season.
Throughout the year, SVP is there to assist those in need of clothes, fuel, food and there is always a special effort is made over the Christmas to bring joy and love where is needed. During this period hampers and food are distributed to local families, and Bridget points out to us that all money raised in the local community stays withing the local community helping local families.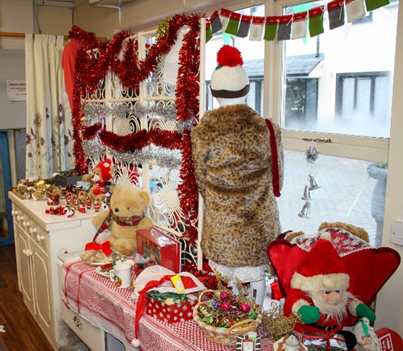 SVP Castleconnell has asked us to highlight the problems caused by the cost of living crisis and the creation of the "New Poor " and to make people aware that if they are struggling with bills and trying to put food on the table this Christmas, all of the St Vincent de Paul volunteers are there to help you at any time in whatever way they can.
There is an extensive Food Bank available to any people in the community that need help with feeding themselves or their families.
People with special needs please contact Bridget directly and she will do at her best to facilitate you in whatever way is possible.
All donations and contributions are gratefully accepted. You can Contact Bridget directly at 087 693 5580 or by visiting The SVP Castleconnell Facebook page at SVP Castleconnell Facebook or via www.svp.ie
Cunningham's SuperValu, Castle Centre
Cunningham's SuperValu Castleconnell was opened in September 2007 by husband and wife team Peter and Suzanne Cunningham, and in those 15 years, Peter informed us that they have had fantastic support from the local community.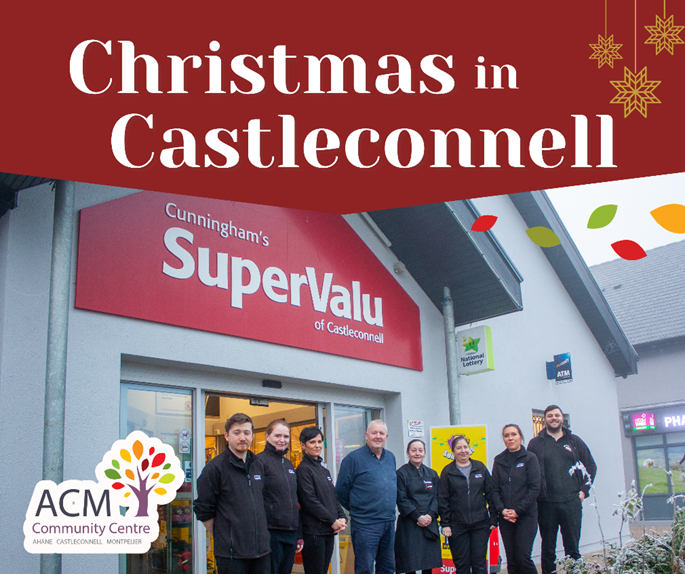 Cunningham's SuperValu Castleconnell is proud to support a wide range of local organisations and groups from sporting clubs to community groups.
They currently have 32 employees who are living within the community and in early 2023 they will reopen the Castleconnell post office within the supermarket.
Best Christmas Sellers
Peter tells us that they currently extremely busy with Christmas and as usual, they will sell fresh turkeys at half price when you collect 500 points on your rewards card.
They will continue to have many special offers on confectionery wines, beers and spirits right across our supermarket and we will be open right up to Christmas for any last minute shoppers.
You can view all of the current offers and specials at Cunningham's SuperValu Facebook Page located at SuperValu Castleconnell Facebook or their Instagram page located at SuperValu Castleconnell Instagram.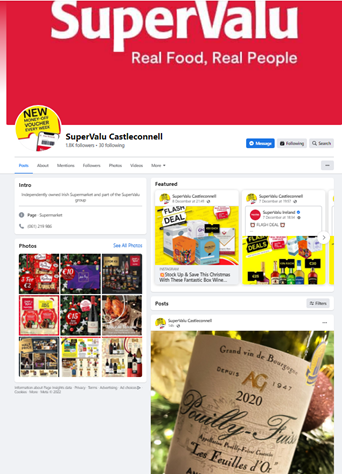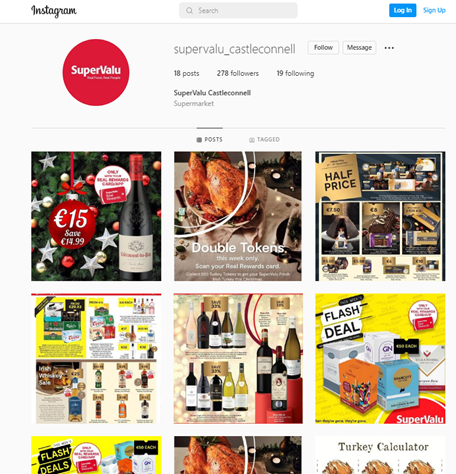 SuperValu will close at 6pm on Christmas Eve and Peter mentioned how important it is to the Cunningham family that all of the SuperValu Castleconnell staff members get to spend time with their familiies over the Christmas period so they will remain closed on St Stephen's Day and re-open on the 27th and then close at 6pm on New Year's Eve and remain closed on New Year's Day and welcome everybody back for the New Year on the 2nd of January.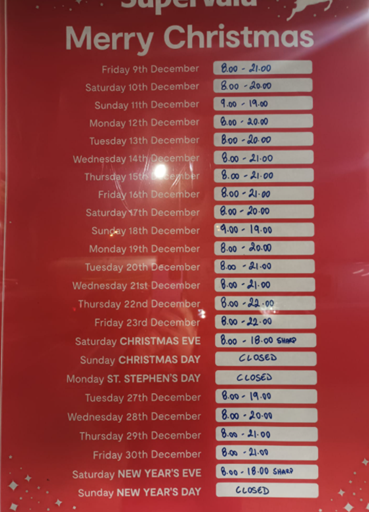 Niamh Hynes Pottery, Newgarden
Niamh Hynes Pottery has been located close to Niamh's home house in Newgarden since 1995. Niamh tells us that her journey into setting up her own studio commenced following completion of her studies in Limerick School of Art and Design where she studied ceramics. Following her studies in Limerick, Niamh went to Thomastown in County Kilkenny to attend a course run by the crafts Council of Ireland in throwing and then she completed a business course for craft people and went to work on the Dingle Peninsula before deciding to move back to Castleconnell and set up her impressive studio. As Niamh says herself, coming home was always the goal!
Niamh absolutely loves pottery. There is so much local influence in her work from the wildlife to the rivers to the local landscapes reflected in her work. She finds great satisfaction in the fact that her work can brighten up somebody's home this Christmas.
Best Christmas Sellers
There are Candle Domes and Christmas decorations which look good on the tree or around a bottle of wine if you're going to somebody's house.
Niamh's new High Tide range has been selling fast and has proved immensely popular with people looking to buy Christmas Gifts.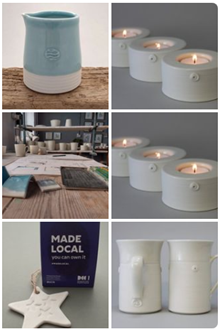 How to Buy From Niamh
Niamh tells us that the best way to purchase from her studio is to call in where you can see the full range in person and pick out your favourite pieces. You can contact Niamh at 087 6961993 or contact her through Facebook , WhatsApp or Instagram to make an appointment.
You can view Niamh's work on her Instagram page located at Niamh Hynes Pottery Instagram or her Facebook page located at Niamh Hynes Facebook Page.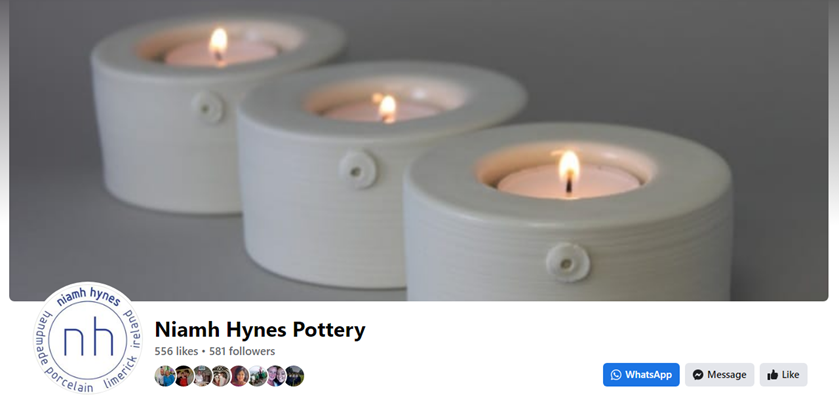 George Lee, Shannon Stores Main Street
At the very beating heart of Castleconnell Village lies Shannon Stores and its well known proprietor George Lee. Shannon Stores has been in operation in Castleconnell since 1946 when Georges parents, Paddy and Carmel, set up the grocery store on the site of the world renowned Enrights Fishing and Tackle Shop.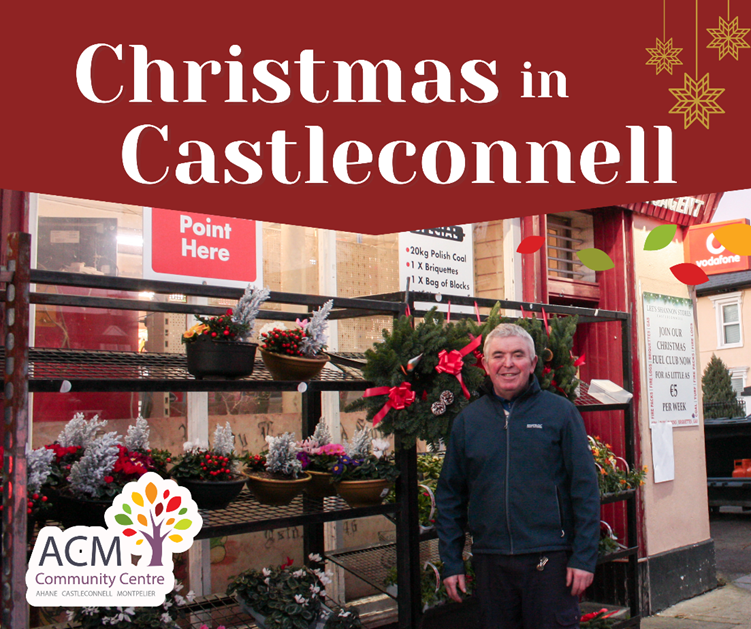 Best Christmas Sellers
Shannon Stores has always been well known for its wide range of plants and flowers and they are keeping that theme going with the impressive array of winter plants and Christmas centre pieces that are on offer at the store. The winter plants are flying off the shelves so George advises to grab yours now before they are all gone.
One thing that George was keen to point out to us due to the recent shutting down of Castleconnell Post office, a range of post office services are available through Shannon Stores including national and international stamps. They also provide a bill paying service for ESB, Eir, Mr Binman, AES, Local Government Property Tax and many more.
Shannon Stores always has a huge range of special offers which can be viewed in store or on the Shannon Stores Facebook Page located at Shannon Stores Facebook Page.
Tony McDermott, Victualler, Main Street
McDermott Butchers have been in Castleconnell for almost 45 years and Tony is a second generation butcher following in his father's footsteps who worked in the famous O'Connells Butchers in Limerick.
In that time, Tony has seen huge changes in Castleconnell but the one constant is the loyalty of the local community in supporting his family run butcher shop. As the population of the village has expanded, so has the number of customers and he is ideally placed right in the heart of the village to cater for this ever increasing demand.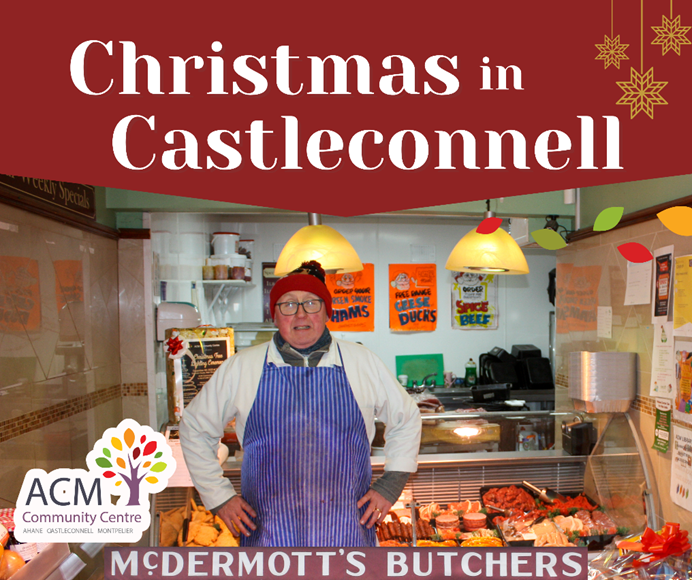 Tony supplies beef, lamb, pork, bacon, cooked meats, vegetables, sauces and soups. All of Tony's meat is fully traceable from farm to fork and they pride themselves on supplying only the best quality meats. They have been dealing with the same supplier for many, many years.
McDermott Butchers know that value for money is very important these days and Tony says that they strive to supply the best quality produce at the best possible price. They also pride themselves on their friendly and professional service and as Tonys late father Johnny used to say "The Customer is King."
Best Christmas Sellers
On top of the old reliables of turkey and ham, Tony Tells us that his family recipe spiced beef is a very popular Christmas Dish. The recipe has been in the McDermott family for over100 years and from the sample we were given on our visit we can confirm that it is truly delicious!
As well as the popular spiced beef, Tony tells us that lots of people choose to forego the traditional turkey in favour of a goose or duck and lots of people will choose to have a leg of lamb or a rib roast of beef.
You can find the full range of Christmas offers along with recipies and delivery options from Tonys Website located at McDermott Butchers Website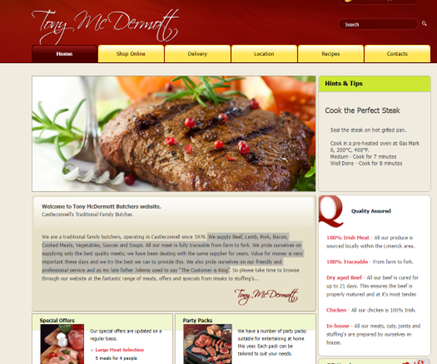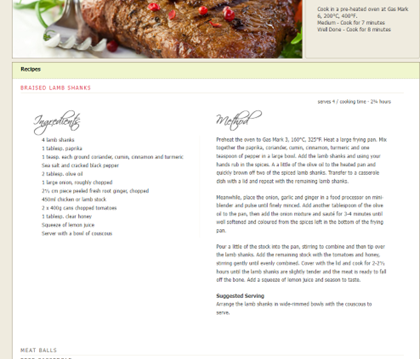 Whisps Hair Salon, Main Street
Located at the very top of Main Street, a visit to Whisps Hair Studio will allow you to acquire the most fantastic of festive looks. Tracy and the girls have you covered for all of your celebratory occasions from work parties to meeting up with friends and family to weddings and the New Year celebrations. Tracy and her expert team offer a wide range of services and will ensure that you will be looking your very best this Christmas.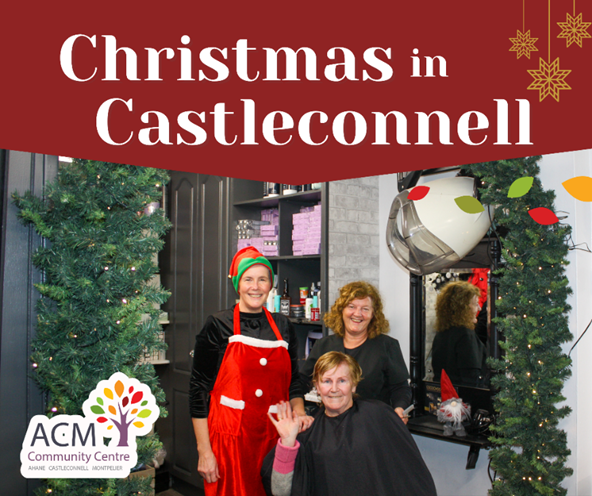 Whisps Hair Studio has been a central part of life in Castleconnell Village since being set up by owner and lead hairdresser Tracey over 30 years ago. Tracy started off as a junior to Hugh Campbell in Limerick City and became a Master Colourist, and it is in the area of colour that she still specialises in to this this day. Having originally being set up in across from the Parish Hall, Tracy saw the opportunity to be at the top of the town and moved into her current premises where she loves to watch the comings and goings around the village.
You can make an appointment with Tracy by calling 061 377063.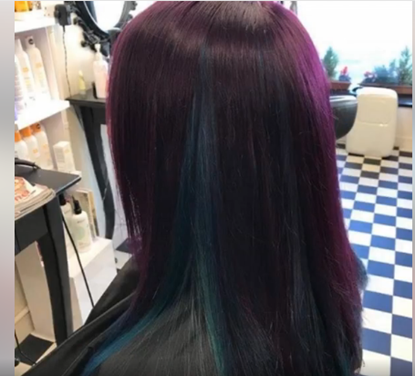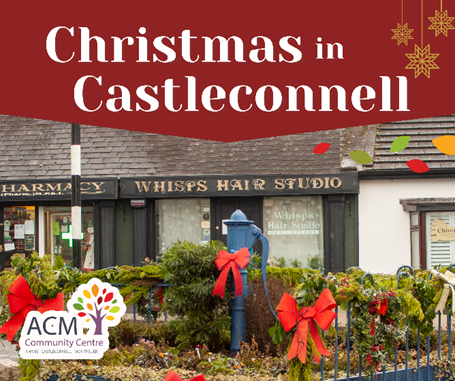 Protea Café, Main Street
Protea Café was set up by Adrian Cossavella and his family just over 2 and a half years ago and to say it has been a whirlwind is an understatement. A move from South Africa right into the heart of a small Irish village is a big enough undertaking on its own but to do it during a pandemic really took a different level of courage.
Adrian and the family offer the most amazing barista coffees and hot drinks along with a very extensive menu to cater for every taste from breakfast, through lunch, and into the evening snack time. There is a huge variety of locally sourced produce and Adrian insists on only using the very best of ingredients to blend his unique fusion of Irish and South African tastes.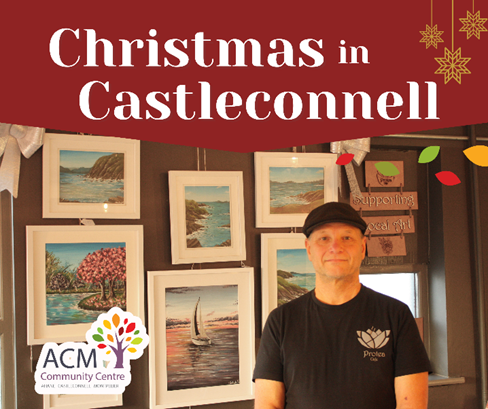 One of Adrians most popular products is his Boerewors/Biltong which has come from a collaboration with Uncle Bok, the longest running Boerewors and Biltong company in Ireland with a wide range of customers all over the country. If you have never tried it, you are really missing out – you will get to enjoy a wonderful taste of South Africa in Ireland.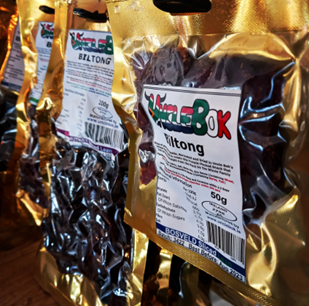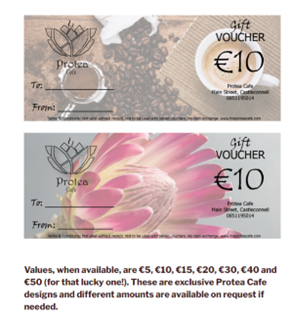 Protea Café has an excellent website located at https://theproteacafe.com/ where you can see their full range of wonderful beverages and extensive food menu. You can also connect via Facebook at Pontea Facebook, or Instagram at Pontea Instagram, and Twitter at Pontea Cafe Twitter. Gift Vouchers are also available in the Café.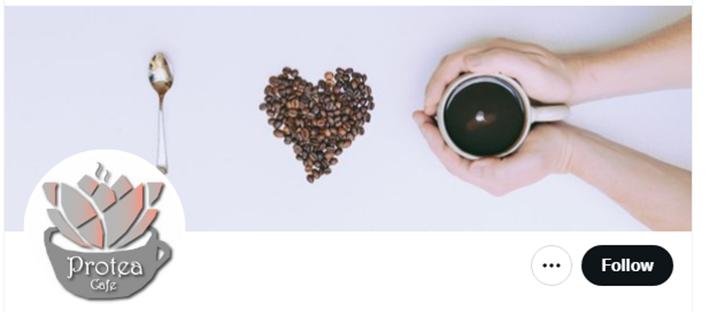 To Contact Protea Café you can use any of the above Social Media channels or call Adrian at 085 119 5014 or email hello@theproteacafe.com
HOURS
Tues-Fri: 9:00 – 16:00
Sat: 10:00 – 15:00
Sun: 10:00 – 14:00
Monday: CLOSED